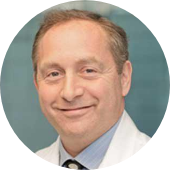 David Kaufman, MD
Maiden Lane Medical
David Kaufman, MD is a board certified and gifted urologist treating patients throughout New York City at Maiden Lane Medical in Midtown East. Dr. Kaufman provides a variety of services including treatments for pelvic pain, interstitial cystitis, male and female sexual dysfunction, premature ejaculation, male infertility, kidney stones, and prostate problems. He also offers no-scalpel vasectomies and treatments for bladder control. Dr. Kaufman gives his patients his full attention and creates customized treatment plans to address the specific needs of each individual.

Dr. Kaufman completed his medical degree at the State University of New York at Stony Brook Schools of Medicine. He went on to serve his general surgery internship at the Mount Sinai Hospital and his urology residency at Columbia Presbyterian Medical Center. Dr. Kaufman is board certified by the American Board of Urology and is a member of the American Urology Association. In addition to treating patients at Maiden Lane Medical, Dr. Kaufman is also an Assistant Professor of Clinical Urology at the Weill Cornell Medical School. He often speaks on breakthroughs in urology including diagnostic techniques at medical conferences and seminars across the country.

Dr. Kaufman provides knowledgeable and comprehensive care to his patients. He is well known for developing and effectively executing therapies as an alternative to surgery to improve outcomes for his patients.
Maiden Lane Medical Midtown
18 East 41st Street
First Floor
New York, New York 10017
Get Directions