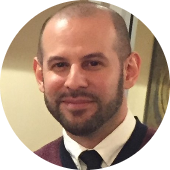 Wallace Carrillo-Medina, DMD
Wallace Dental & TMJ
511 Greensboro St
Asheboro, North Carolina 27203

About Wallace Carrillo-Medina, DMD
My name is Dr. Wallace Carrillo-Medina. Whether you need a simple cleaning or more comprehensive dentistry, we will take good care of all your dental needs. Our core value is to treat you as we would treat our own family.

I completed my Dental Degree in 2009 from the University of Puerto Rico. Later I did two years of AEGD residency (2011) at Lutheran Medical Center in Brooklyn, NY. After seeing many of my patients suffer from chronic orofacial pain, I decided in 2016 it was time to go back to school to deepen my knowledge in this field. In 2019 I completed my Master of Science in Orofacial Pain and Oral Medicine from the University of Southern California.

I was an adjunct assistant professor at UNC School of Dentistry until I moved to Asheboro in 2018. I am also a member of the following organizations: Academy of General Dentistry, American Dental Association, American Academy of Oral Medicine, American Academy of Orofacial Pain.

I am happily married to my wife Daniela, and we have a beautiful daughter called Sara. We love traveling and trying new foods from different cultures. My favorite TV shows are No Reservations and House Hunter International from HGTV.

You are welcome to visit us!
Wallace Dental & TMJ
511 Greensboro St
Asheboro, North Carolina 27203
Get Directions