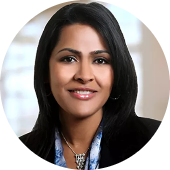 Vithyalakshmi Selvaraj, MD
Omaha Insomnia and Psychiatric Services
8901 Indian Hills Drive
Suite 350B
Omaha, Nebraska 68114

About Vithyalakshmi Selvaraj, MD
Dr. Vidhya Selvaraj, founder of Omaha Insomnia and Psychaiatric Services, is a board certified Psychiatrist. She is a pioneer in Primary Care Mental Health integration at Omaha. She successfully ran integrated mental health clinics at Omaha VA and CUMC medical center.


Prior to fully transitioning to private practice she was practicing at Omaha Veterans Administration Hospital, then at Creighton University Medical Center, CHI Creighton Clinic and at Partial Hospitalization Program at Immanuel Hospital.

Dr.Selvaraj served as an Associate Professor of Psychiatry and Associate Professor of OBGyn in the Creighton University School of Medicine till May, 2019.


Dr. Selvaraj is the primary author of "Psychopharmacology: 501 Questions to Help You Pass the Boards, a book manuscript published by Lippincott Williams and Wilkins. She is also well published among peer reviewed journals.

Dr. Selvaraj completed residency in psychiatry at the Creighton UniversityUniversity of Nebraskas Psychiatry Residency Program, where she earned the Star Resident Award in 2009. She was also trained at North West Wales NHS Trust hospitals in Bangor, Wales, U.K. She earned her bachelor of medicine bachelor of science degree from Stanley Medical College in Chennai, India.

She is a classical dancer and holds a degree in the ancient Indian cultural dance form called Bharatnatyam. She loves cooking and owned 3 successful Indian Restaurants in the recent past. Currently she owns Maharani Indian cuisine at Omaha NE. She is also on the board of directors of a multinational baby product line Mickey and Nila.
Omaha Insomnia and Psychiatric Services
8901 Indian Hills Drive
Suite 350B
Omaha, Nebraska 68114
Get Directions