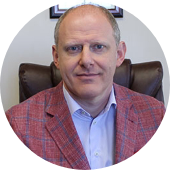 Vadim Madfis, MD
Internal Medicine Associates of Jacksonville, P.A.
6320 St. Augustine Road
Suite 12
Jacksonville, Florida 32217

Dr. Vadim L. Madfis is originally from Ukraine. He earned his medical degree from the University Of Tartu Faculty Of Medicine in Estonia and graduated with Summa Cum Laude. Dr. Madfis completed his residency training at Mt. Sinai Medical Center, an Affiliate of Case Western Reserve University (CWRU) School of Medicine in Cleveland, Ohio. Dr. Madfis is fluent in Russian and Ukrainian languages and has twenty-five years of experience in medicine, treating adolescents, adults, and geriatric patients.

He is a Fellow of the American College of Physicians (FACP), a member of the American College of Physicians-American Society of Internal Medicine (ACP-ASIM) and Duval County Medical Society (DCMS). Dr. Madfis is also board certified by the American Board of Internal Medicine (ABIM). He was a faculty member of the CWRU School of Medicine and provided personal supervision and teaching for medical student interns and residents during their Internal Medicine rotations. He is affiliated with area hospitals: Baptist Medical Center (Downtown), Memorial Hospital Jacksonville, and St. Vincent's Medical Center (Southside).

On multiple times, he has received the "America's Top Physician Award" from the Consumers Research Council of America. Dr. Madfis is the founder, president & CEO of IMAJ Medical Diagnostic Clinic and resides in Jacksonville, FL with his beautiful wife and daughter. In his free time, he enjoys traveling and exploring the world, reading about winemaking and playing chess.
Internal Medicine Associates of Jacksonville, P.A.
6320 St. Augustine Road
Suite 12
Jacksonville, Florida 32217
Get Directions