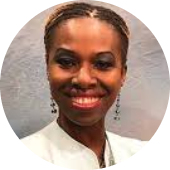 Uchenna Umeh, MD
Dr. Lulu's Youth Health Center
My name is Dr. Uchenna Umeh, but I go by Dr. Lulu. I am a board-certified pediatrician, US Air Force Veteran, global speaker on youth suicide and bestselling author of two books. I quit traditional medicine 2 years ago to focus on at-risk youth after my patient died by suicide.

While my private practice is modeled to see only high risk pediatric patients with behavioral problems like anxiety and depression and suicidal behavior, I will be glad to take care of your child who has other issues common to pediatrics at this time. I usually spend 60 minutes with each patient because I know that spending more time with these patients helps with communication fosters trust and encourages understanding of their problems. I also work with parents.

I am happy to take care of other problems your child might be having whether behavioral issues or not. My office is located at 12030 Bandera Road, Suite 108B, in Helotes, Texas, right behind the Home Depot at the junction of 1604 and Bandera Road. Looking forward to meeting you and your family.