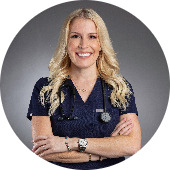 Tiffany Sizemore, DO
Concierge Consultants & Cardiology
1409 Se 1St Ave
Fort Lauderdale, Florida 33316

About Tiffany Sizemore, DO
Dr. Tiffany Sizemore graduated Magna Cum Laude with a Bachelor of Science degree in Psychobiology from Florida Atlantic University at 19 years old. She then went on to become the youngest graduate from the College of Osteopathic Medicine at Nova Southeastern University in Ft. Lauderdale, FL. Dr. Sizemore is quadruple board-certified in cardiology, internal medicine, echocardiography and nuclear cardiology. Her true passion lies in helping people to achieve their health goals in a preventative nature. She enjoys educating the public about health, nutrition and disease prevention.

Dr. Sizemore is an assistant clinical professor of three medical schools where she teaches cardiology in the classroom as well as carries a private teaching service at Broward Health Medical Center, a level 1 trauma center. She also serves as a medical advisor at a law firm in Fort Lauderdale for medical malpractice and product liability cases. Dr. Sizemore lectures around the country to other doctors on various topics including domestic violence and prevention of medical errors. She is regarded in her community as a five star doctor and has received many awards for outstanding patient care and patient dedication. She is the immediate past president for the American Heart Association of South Florida and currently serves as the medical advisor for the Distilled Spirits Council of the United States. Due to her commitment to the Osteopathic profession, Dr. Sizemore was appointed to the Board of Osteopathic Medicine by Governor Ron DeSantis in June of 2021.

Because of her ability to help people understand complex medical issues, Dr. Sizemore has been a regular on national media outlets including Fox News and Fox Business, serving as a medical expert on various topics. More than anything, Dr. Sizemore enjoys educating her patients and the public about how to prevent cardiovascular disease. She believes that smiles are contagious and sometimes the best medicine is a simple hug. Mostly, she lives her life by one rule: Be nice.