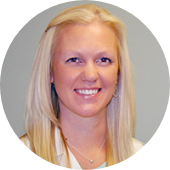 Suzanne Grondin, DPM
Premier Foot & Ankle Center
123 Summer Street
Suite 550
Worcester, Massachusetts 01608

About Suzanne Grondin, DPM
Dr. Grondin grew up in Dartmouth, a small town in southeastern Massachusetts. She received her Bachelor of Arts degree in Biology and Chemistry from Wheaton College in Norton, MA and her Doctorate from Temple University School of Podiatric Medicine in Philadelphia, PA. Dr. Grondin completed her surgical residency at Saint Vincent Hospital in Worcester, MA. She then went on to private practice at the Premier Foot and Ankle Center.

Dr. Grondin is board certified in foot surgery by the American Board of Podiatric Surgery. She has been awarded by Temple University for her excellence in pediatric podiatry, and received the Who's Who Award among Executive and Professional Women. She is Fellow of the American College of Foot and Ankle Surgeons.

Dr. Grondin originally became interested in Podiatry at a young age after suffering several foot injuries as a competitive figure skater. Dr. Grondin competed all over New England for 17 years and worked very closely with her Podiatrist to keep her feet healthy. This led to her interest in the foot and ankle as her own profession. Today Dr. Grondin uses these experiences, along with her training, to work with her patients and keep their feet healthy.
Premier Foot & Ankle Center
123 Summer Street
Suite 550
Worcester, Massachusetts 01608
Get Directions