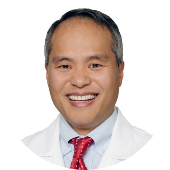 Steven Wei, MD
Orthopedic Partners
82 New Park Ave
North Franklin, Connecticut 06254

Dr. Steven Wei is Board-certified orthopedic surgeon with a sub-specialty certification in sports medicine. He has a special interest in minimally-invasive surgery.

Dr. Wei has conducted research in the areas of knee injuries, shoulder arthroscopy, and foot & ankle surgery, resulting in presentations at national and international orthopedic conferences, as well as publications in peer-reviewed medical journals.

He believes in meeting his patients' individual needs by carefully listening to their problems. One of the most important things he needs to know is how the physical problem affects the patient's life. Dr. Wei will conduct a thorough evaluation and develop a treatment plan to return them to as active and pain-free of a lifestyle as possible.

Dr. Wei's philosophy is that knowledgeable patients make the best decisions about their own care. That's why he explains every step of the process, so that patients can help guide and direct the diagnostic and treatment activities. When we consider alternatives, he'll present a realistic outlook on the results that we can expect. He'll also be frank about any risks that might be involved. His patients' trust is of utmost importance to him, and the best compliment he can receive is when patients recommend him to one of their family members or friends.

Many orthopedic conditions can be treated by non-surgical techniques -- surgery is just one treatment option. Dr. Wei combines leading edge techniques with proven traditional methods to provide his patients with the best orthopedic care possible.