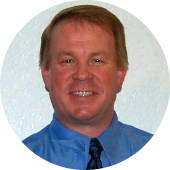 Steve Simpson, OD
Steven J Simpson, O.D.
41705 E. Florida Ave
Hemet, California 92544

Dr. Simpson attended Indiana University and graduated in 1989. He completed a residency program at the West Los Angeles VA Medical Center in Geriatric Optometry and Ocular Disease in 1990-1991. Dr. Simpson was a clinical instructor at the Southern California College of Optometry where he taught students how to perform eye examinations and then taught in the Ocular Disease Department. He was chosen as the California Young Optometrist of the year in 1993. Dr. Simpson also has a big interest in nutrition and has taken many classes in nutrition and is enrolled in an advanced degree to earn a Diplomate in Clinical Nutrition. He is certified to perform genetic testing called Nutrigenomics​​ to learn what genetic mutations are not allowing the body to work optimally and what nutritional components are needed so that the body can work correctly. He enjoys sports, especially golf and mountain biking.

Steven J Simpson, O.D.
41705 E. Florida Ave
Hemet, California 92544
Get Directions