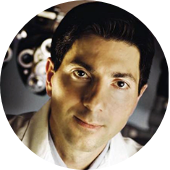 Steve Cohen, MD
Cohen Ophthalmology
6528 East Carondolet Drive
Tucson, Arizona 85710

An eye physician and surgeon, Dr. Steve Cohen is the only eye care provider in Tucson to be trained at both the world renowned Wills Eye Hospital in ophthalmology and the UCLA School of Medicine, while also having spent time in research at the Wilmer Eye Institute at Johns Hopkins. He is certified by the American Board of Ophthalmology and is a Fellow of the American College of Surgeons and the American Academy of Ophthalmology. In addition, he is a Goldwyn Scholar and graduate of the UCLA School of Medicine and a Summa Cum Laude graduate of Rutgers University. He completed his ophthalmology residency in Philadelphia where he trained with the very best in ophthalmology. In addtion, Dr. Cohen completed a Cornea/ Refractive /Anterior Segment Fellowship under the direction of Dr. Steve Siepser in Philadelphia. During his training he was honored by presenting his research at the ASCRS meeting. Dr. Cohen has been the recipient of numerous awards for his compassion and knowledge including: the Ransom J. Arthur, M.D. Award, the Charles A. Lauffer award,the S. Oakley Van der Poel Award.

As an educator, Dr. Cohen has also taught Residents at the University of Arizona Department of Ophthalmology. Additionally, he had the foresight to recognize that laser vision correction would transform the way people would see the world. In 1998 he was one of the first Ophthalmology Residents in Philadelphia to be trained in Laser Vision Correction, and helped proctor other physicians in Philadelphia as they learned cataract surgical techniques.

Dr. CohenIn research, Dr. Cohen has worked to gain a better understanding of several areas in medicine and science. Some of his research includes a study on the Treatment of Myopia and Myopic Astigmatism with Laser in situ keratomileusis and the VISX Star Excimer Laser, with Dr. S. Siepser, at Siepser Laser Vision. Also, Clinical Results of the Array Multifocal Posterior Chamber Intraocular Lens with Dr. S. Siepser. In addition, prior work includes: The Isolation and Characterization of a Hyalocyte LMW Inhibitor of RPE Cell Proliferation, with Dr. Howard Lazarus and Dr. Peter Campochiaro at the Wilmer Institute of Johns Hopkins Medical Institutes, The Effects of Light/Dark Adaptation on mRNA of Proteins Involved in the Phototransduction Cascade of Rodents with Dr. Deborah Farber at the UCLA – Jules Stein Eye Institute, Analysis of PTC-derivatized Amino Acids Using Reverse Phase HPLC using a Novel Femtomole Level Method, with Dr. Stanley Stein at the Protein Microchemistry Lab, at Center for Advanced Biotechnology and Medicine, UMDNJ Medical Center.

Dr. Cohen has always been on the vanguard of new technology, including intraocular lens implants and has attended extensive continuing medical education remaining current in areas of expertise such as presbyopic correcting, astigmatic and aspheric IntraOcular Lenses (IOLs). Dr. Cohen was one of the first ophthalmologist in Tucson to implant the Crystalens® presbyopic correcting lens in 2005. Since then, he has implanted several hundred lenses including Restor™ and Crystalens® further refining his technique to assist patients in decreasing their dependency on glasses and in most cases becoming more independent of glasses post-operatively.

Dr. Cohen regularly uses various toric Ihttp://drstevencohen.com/meet-the-doctor.htmlntraOcular Lenses (IOL) designed to eliminate or render insignificant any preexisting corneal astigmatism in cataract patients, again decreasing dependency on spectacles. Finally, the standard IOL technology has made significant leaps moving towards aspheric vs. spherical IOLs with Dr. Cohen on the leading edge of this technology. The result of such a shift has resulted in significantly improved post-operative acuity neutralizing any irregularities seen in spherical IOLs. Dr. Cohen is committed to bringing the latest innovations in vision correction and ophthalmic surgery to his patients.

Dr. Steve Cohen is also a member of the American Society of Cataract and Refractive Surgery, the American Medical Association, the American Academy of Ophthalmology, the Tucson Medical Society, Tucson Ophthalmologic Society, and the International Society of Refractive Surgery. He has also served on the Board of the Arizona Jewish Foundation.
Cohen Ophthalmology
6528 East Carondolet Drive
Tucson, Arizona 85710
Get Directions