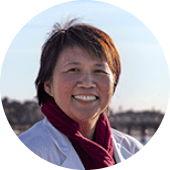 Srisawai Pattamakom, MD
Ideal Women's Health Specialists
2945 Loma Vista Road
Ventura, California 93003

About Srisawai Pattamakom, MD
Dr. Srisawai Pattamakom is a board-certified obstetrician-gynecologist who welcomes the women of Ventura, California and its surrounding communities to experience 21st-century healthcare at Ideal Women's Health Specialists. Well-known for her upbeat and positive attitude, Dr. Pattamakom is committed to providing her patients with the most technologically advanced and effective medical treatment available, and she delivers it with warmth and compassion.

She obtained her medical degree from Chicago's Northwestern University Feinberg School of Medicine. She completed her internship and residency programs at Santa Clara Valley Medical Center in San Jose, California.

Dr. Pattamakom specializes in general obstetrics and gynecologic care and is an expert in both low and high-risk pregnancies. She has 20+ years' experience of providing highly-skilled treatment for conditions unique to women, including heavy menstrual bleeding, pelvic pain, urinary leakage, pelvic prolapse, and female infertility. For her patients' convenience, she also does ultrasounds in-house. We speak Spanish and Thai.
Ideal Women's Health Specialists
2945 Loma Vista Road
Ventura, California 93003
Get Directions