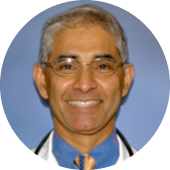 Soordal Prakash, MD
Sunshine Medical Center LLC
5937 Beneva Road
Sarasota, Florida 34238

About Soordal Prakash, MD
Dr. Soordal Prakash was born in Kerala state in India, an area known for its beckoning palms and blue lagoons. One among the top 10% of his graduating class, he graduated from medical school in 1983 from Kerala University. He then completed his surgical training at Calicut Medical College obtaining a surgical board in 1988. Subsequently, he taught surgery to third and fourth year medical students and worked in the Department of Surgery at Kasturba Medical College (KMC), Manipal until 1990. Shortly thereafter, Dr.Prakash moved to the United Kingdom in pursuit of further surgical training. He became a Fellow of the Royal College of Surgeons, Glasgow in 1991 and trained in plastic and hand surgery. In 1994, he relocated to the United States and worked through his residency in surgery for one year at Bronx-Lebanon Hospital.

At this time, Dr. Prakash decided to change his focus to family medicine and geriatric care in which he could bring into play his extensive surgical experience and knowledge while also being able to provide compassionate and personal primary care. He completed his family practice residency at Mount Sinai-St. Joseph's Medical Center in Paterson, NJ and his Geriatric fellowship at Robert Wood Johnson University, New Brunswick. After receiving his board certification in both Family Medicine and Geriatrics, Dr.Prakash worked in Wayne and Chester, NJ before moving down to Sarasota, Florida in 2002 with his family and opening a private practice along with his wife, Dr. Shanthi Prakash.

- Admitting Privileges at Sarasota Memorial Hospital, Doctor's Hospital, and Health South Ridge Lake Hospital.
- Consultant privileges for Health South Rehab Hospital in Sarasota, FL.
- Clinical Assistant Professor in Family Medicine at Florida State University since 2006.
- Obtained medical degree from a Kerala university in India, one of the top medical schools in India (1983).
- Obtained Masters in Surgery from Calicut Medical College in Kerala, India in 1988.
- Worked in the department of surgery at Kasturba Medical College.
Sunshine Medical Center LLC
5937 Beneva Road
Sarasota, Florida 34238
Get Directions