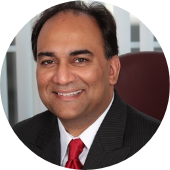 Shirish Bhatt, MD
Fairfield Primary Doctors
71 Rt 46 West
Suite H105
Fairfield, New Jersey 07004

Dr.Shirish Bhatt, born and raised in Chicago, attended the University of Wisconsin and completed his Bachelors Degree in Medical Science. He then attended the Medical College of Wisconsin in Milwaukee to obtained his MD in 1994.

Dr. Bhatt returned to Chicago for residency at Loyola University Medical Center where he become a specialist in Internal Medicine. After moving to NJ in 1999, he taught medical residents and medical students at hospitals affiliated with the Albert Einstein College of Medicine, New York.

After Teaching Medical Residents for 4 years In New York, Dr. Bhatt started practice in New Jersey founding Fairfield Primary Doctors, a primary care practice. Adding to his experience, Dr. Bhatt remained the primary medical consultant for the world famous Kessler Institute For Rehabilitation (in West Orange, NJ) from 2003 till 2007. His skills in Joint and Stroke Rehabilitation grew as he developed special interests in helping patients with Prosthetic Limbs. In 2009, Dr. Bhatt furthered his training at the Langonne NYU Medical Center by obtaining certification in Wound Care from CMET as a Consultant. Dr. Bhatt further trained and completed certification in Hyperbaric Medicine and is Board Certified (and Re-Certified) in Internal Medicine by the American Board of Internal Medicine (ABIM).

Dr. Bhatt warmly welcomes new patients to the practice.
Fairfield Primary Doctors
71 Rt 46 West
Suite H105
Fairfield, New Jersey 07004
Get Directions