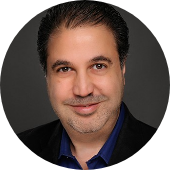 Shervin Eshraghi, MD
University Neurological Associates
8401 Medical Plaza Dr
Suite 150
Charlotte, North Carolina 28262

About Shervin Eshraghi, MD
This practice was founded in Dec. 2012 by Shervin Eshraghi, MS, MD as an independent practice with a vision to offer more personalized, cost-effective, efficient, and hassle-free care as compared to the bigger hospital affiliated practices in the area.

Dr. Eshraghi is board certified in the specialty of Neurology and board certified in the subspecialty of Clinical Neurophysiology (EEG/EMG).

Dr. Eshraghi earned both his Bachelor's and Master's degrees from the University of Toronto in Human Biology and Cellular/ Molecular Pathology respectively. He then received his Doctor of Medicine degree from Saba University School of Medicine in the Netherlands-Antilles. Subsequently he did his residency in Neurology at the Medical College of Wisconsin and his fellowship in Clinical Neurophysiology at the University of Pittsburgh Medical Center.

Dr. Eshraghi has published in peer reviewed journals and has participated extensively in basic and clinical medical research.

Dr. Eshraghi is an active member of the American Academy of Neurology.
University Neurological Associates
8401 Medical Plaza Dr
Suite 150
Charlotte, North Carolina 28262
Get Directions