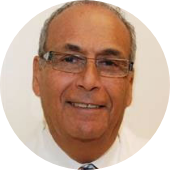 Sergio Larach, MD
Digestive and Liver Center of Florida
100 N Dean Road
Suite 101
Orlando, Florida 32825

Dr. Sergio Larach completed his fellowship at the University of Texas Medical School. He is board certified in colon and rectal surgery. He has published numerous articles on colon and rectal surgery, conducted clinical research, and authored book chapters in his specialty. Dr Larach has been selected as a "Top Doctor in Orlando" by Orlando Magazine for several years.

His interests include the whole spectrum of colorectal issues, including colon and rectal cancer, inflammatory bowel disease, and ano-rectal diseases. Dr. Larach has become a pioneer in performing laparoscopic surgical procedures, and he recently developed the TAMIS procedure for the treatment of rectal tumors

Dr. Sergio Larach has held multiple professional appointments through his career, including Program Director of Orlando Regional and Florida Hospital's Colon and Rectal Fellowship Program. He is currently a Clinical Associate Professor at University of Central Florida and Clinical Associate Professor at Florida State University.
East Orlando
100 N Dean Road
Suite 101
Orlando, Florida 32825
Get Directions