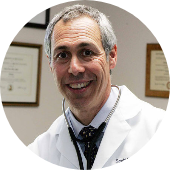 Scott Eder, MD
Center for Women's Health & Wellness
3100 Princeton Pike Bldg 1
Suite J
Lawrenceville, New Jersey 08648

Dr. Scott Eder always strives to be at the cutting edge of medicine. A graduate of Boston University and medical school at the Catholic University of Louvain, he also holds masters degrees in both physiology and administrative/preventative medicine. Dr. Eder is a board-certified gynecologist, recognized by the American Congress of Obstetricians and Gynecologists.

Dr. Eder opened his first office in Lawrenceville, NJ in 1988. Since that time, he has introduced several new gynecological procedures to the Mercer County community including techniques to avoid hysterectomy and treat urinary incontinence. Most recently, he was the first physician in Mercer County to use the DaVinci surgical robot, a device designed to make surgery less invasive.

The Center for Women's Health and Wellness is actively involved in clinical research studies that help to bring new laboratory tests, medications and surgical treatments safely to the public. You can learn more about volunteering for these studies here.

Dr. Eder has participated in several volunteer medical missions as a gynecologist in Africa. In 2008 he was a nominee for the Distinguished Physician Humanitarian Award given by Princeton Health Care System for his work.

In 2017, Dr. Eder successfully met the criteria and passed the examination necessary to become a NAMS Certified Menopause Practitioner (NCMP).
Center for Women's Health & Wellness
3100 Princeton Pike Bldg 1
Suite J
Lawrenceville, New Jersey 08648
Get Directions