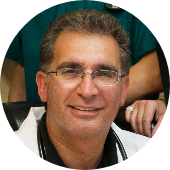 Sasson Moulavi, MD
Smart for Life
3196 North Federal Highway
Pompano Beach, Florida 33076

Smart for Life® offers weight loss services and other types of care for patients in Boca Raton, Florida. Dr. Sasson Moulavi, the Medical Director of Smart for Life Weight Management Centers, oversees and provides these services. Patients who come to this facility have access to medically supervised weight loss services, lifestyle programs, and weight loss products.

At Smart for Life, patients go through a weight loss program under the care and guidance of Dr. Moulavi, a medically trained physician who specializes in bariatric medicine. The program includes several features that assist with weight loss, including a BMI analysis, metabolic monitoring, and motivational support. Patients can depend on the Smart for Life medical program to achieve their weight loss goals, along with improved health and superior well-being.

Patients in Boca Raton also have access to the Smart for Life Lifestyle Program when they see Dr. Moulavi for weight loss. The program includes weekly support calls and the ability to order Smart Foods, which help patients healthily lose weight. Patients can choose from a wide selection of Smart for Life snacks and other food products that are designed to assist with weight loss.

Coming to Smart for Life in Boca Raton means achieving weight loss in a friendly, supportive, and caring environment. Patients can also get allergy testing, sign up for concierge medicine, receive infusion therapy, and more. All of these services are intended to help patients enjoy a healthier and happier life.

Smart For Life is currently accepting new patients, and the team can't wait to meet and serve you.
Smart for Life
3196 North Federal Highway
Pompano Beach, Florida 33076
Get Directions