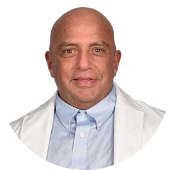 Salvatore Gaudino, DPM
DeLoor Podiatry Associates
About Salvatore Gaudino, DPM
Dr. Salvatore C. Gaudino, D.P.M. is a board-certified podiatrist licensed in New York and New Jersey. He is the founder of Bensonhurst Family Foot Care Center and Brooklyn Podiatry Associates, located at 420 – 74th Street in Brooklyn, New York. Dr. Gaudino, is known to give each one of his patients his undivided attention and care. His office, a state-of-the-art facility located on Doctor's Row (74th Street between 4th and 5th Avenues), is equipped with the latest technology to best diagnose your foot and ankle concerns.

Dr. Gaudino utilizes advanced diagnostic techniques including real time fluoroscopy and diagnostic ultrasound. He also utilizes computerized gait analysis to evaluate the way you walk. The information he obtains from the analysis report aids him with biomechanical problems you may have. If needed, he is able to manufacture customized Orthotics from this information as well.

Dr. Gaudino treats many conditions, including Achilles Tendinitis, Ankle Sprains, Ankle

Instability, Fractures, Fungus Toenails, Heel Spurs, Infections, Plantar Fasciitis, Flat Feet, Neuromas, Tendinitis, Warts, Bunions, Hammertoes, Ingrown Toenails, Calluses, Corns, Arthritic Foot and Ankle Care, Skin Problems, Rashes and Moles, Diabetic Foot Care, Crush Injuries, Athletes Foot, and Geriatric Foot Care.
Flatiron District
132 E 22nd Street
Suite P1
New York, New York 10010
Get Directions