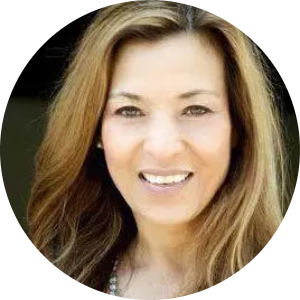 Sadiqa Stelzner, MD
Santa Monica Eye Medical group
About Sadiqa Stelzner, MD
Santa Monica, CA – Sadiqa K. Stelzner, MD, MA, FAAO, FACS, is being recognized by Super Doctors in Super Doctors Magazine®, a publication distributed with the Los Angeles Times, in the field of Ophthalmology. She is CEO / Ophthalmologist at Santa Monica Eye Medical Group, Santa Monica EyeWear LLC, and Santa Monica Advanced Surgical Institute. In 2021 she received the highly esteemed Achievement Award from the American Academy of Ophthalmology.

Located in Santa Monica, Santa Monica Eye Medical Group provides cutting-edge eyecare and surgeries to patients from the greater Los Angeles area, nationally, and internationally. Eyecare services include comprehensive exams, LASIK, glaucoma treatment, eyelid surgery, and advanced cataract surgery. In addition to eyecare services, Dr. Stelzner and her highly skilled team offer laser and esthetic treatments such as PicoSure, Potenza, TempSure, SculpSure, Botox, fillers and IPL to address dry eyes, rosacea, scars, wrinkles, stretch marks, melasma, and body contouring. Backed by over two decades of professional excellence, Dr. Stelzner is one of the best ophthalmologists in Los Angeles County. She has served in her current capacity since 2004. Her area of expertise includes cataract, refractive laser, esthetic, and eyelid surgeries. In addition to her role at the Santa Monica Eye Medical Group, she is an associate clinical professor at David Geffen School of Medicine / Jules Stein Eye Institute where she attends the UCLA Ophthalmology residents. Previously, she served as the Director of Eyecare at the Greater Los Angeles Veterans Affairs Hospital where she continues to teach and provide services.

An academic scholar, Dr. Stelzner earned a Bachelor of Science in Biochemistry and a Master of Arts in Cellular and Molecular Biology from UCLA. She transitioned to Boston
University for medical school, receiving a Doctorate of Medicine. For post education training, she worked at the University of Washington for a residency in Ophthalmology
and at Brigham and Women's Hospital at Harvard Medical School for a research fellowship. She received a fellowship award from the National Institute of Health for her
fellowship at the Hospital. She also attended the Yale School of Management's Executive Training Program. A front-runner in her field, Dr. Stelzner serves as a fellow of the American Academy of Ophthalmology and the American College of Surgeons. She is a member of the American Academy of Cataract and Refractive Surgery and California Academy of Eye Physicians and Surgeons. She is an active member of her community and has traveled to Latin America to teach local doctors and perform volunteer surgeries to preserve sight for disadvantaged patients who were blinded by cataracts.

On top of these achievements, Dr. Stelzner has performed over 14,000 cataract and laser surgeries. She has been recognized for her accomplishments many times,
including receiving the Teaching Award from the Jules Stein Institute / UCLA and the Doctors' Choice Award, and being voted as Patients' Choice on Vitals and Hotwire.com. She is recognized as Best Doctor on HealthTap with her expert opinion benefiting over 1.4 million users. Dr. Stelzner is one of America's Best Ophthalmologists in Who's Who
and Consumer Reports.

Dr. Stelzner dedicates this recognition to her family and outstanding team members including superb providers and staff members who provide the best care with compassion and kindness. She is a proud mother of Jakob and Hannah Stelzner. In her spare time she loves staying active by traveling, hiking, doing yoga, and boxing.
Santa Monica Eye Medical group
1908 Santa Monica Blvd
Suite 3
Santa Monica, California 90404
Get Directions