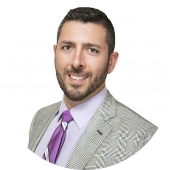 Ryan Wakim, MD
Harmony - Transformations
7000 Stonewood Drive
Suite 320
Wexford, Pennsylvania 15090

1005 White Willow Way
Morgantown, West Virginia 26505

Dr. Ryan Wakim is the Co-Founder and Chief Medical Officer of Comprehensive Care Advisors, LLC, branded as Transformations; a national management service organization that specializes in the implementation and operations of a life-changing behavioral healthcare across the country. He is the Founder, President, and CEO of GR&W Inc, overseeing psychiatric private practices across Pennsylvania and West Virginia. Not only does he actively educate and treat within his offices, but he is also the Chief Medical Officer of Telepsychiatry for iSelectMD and a managing partner and medical advisor for OneSleepAnswer (OSA) a dental-medical billing company. He is passionate about helping others reach their ideal potential through ethical and innovative approaches to the business of medicine. He has a focus on state-of-the-art, restorative care and actively works to bridge the gaps in healthcare needed to achieve the desired outcomes. He has presented these economically viable and pioneering methods of care to medical providers, government officials, criminal justice programs, health insurance companies, and community members locally and nationally.

As a native West Virginian, Dr. Wakim is a lifelong Mountaineer, having completed medical school and residency at West Virginia University serving as the Chief Resident of Behavioral Medicine and Psychiatry. He and his wife, Liza, live in Pittsburgh, where they enjoy golfing, traveling, and close relationships with those near and dear to their hearts.

Dr. Wakim is presently licensed to see patients in the follow states via telehealth:
Florida, Georgia, South Carolina, Ohio, Pennsylvania, and West Virginia with Colorado, Kentucky, and New York pending.
Wexford
7000 Stonewood Drive
Suite 320
Wexford, Pennsylvania 15090
Get Directions
Morgantown
1005 White Willow Way
Morgantown, West Virginia 26505
Get Directions