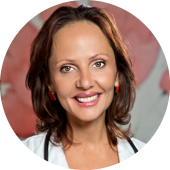 Roxana Stoici, MD
The Retreat
2837 1St Avenue North
St Petersburg, Florida 33713

Dr. Stoici was born in Romania. Her father, an architect and her mother a biologist, instilled early on in her childhood the importance of a higher education. Her main focus was on her studies, leaving little time for recreation. Having grown up in a communist country, Dr. Stoici takes very little for granted. Dr. Stoici was able to fulfill her dream of becoming a physician because of her dedication to her studies and passion for caring for others.

In 1995, at the age of 18, she was accepted to University of Medicine and Pharmacy "Victor Babesh", in Timisoara, Romania and graduated in 2001. Dr. Stoici met her husband while both were attending medical school in Romania. After graduation they moved to Pittsburgh to be close his family and complete their residencies.

In 2007, she completed her residency at the University Pittsburgh Medical Center, McKeesport Family Medicine Residency Program and became Board Certified in Family Medicine. Dr. Stoici also completed a clinical externship in micro surgery at the University of Medicine and Pharmacy in Timisoara, Romania and a surgical rotation at McKeesport. Her extracurricular studies were with an emphasis on Dermatology and Aesthetic Medicine. Dr. Stoici is a member of the Academy of Antiaging Medicine and Fellow of the Aesthetic Medicine track of the same society. Dr. Stoici also received extensive training by Dr. Bafitis in Body Jet® Lipo Sculpture procedures. Dr. Stoici is the owner and Medical Director of The Retreat European Aesthetics practice.

Her husband, Dr. Mike Stoici, operates a successful dental practice in St. Petersburg. Both are fluent in English and Romanian. Together they enjoy biking and outdoor activities with their children.