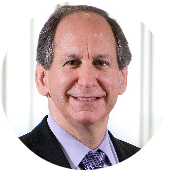 Robert Perlmuter, MD
Primary Care Medical Associates
1460 N Halsted Street
Suite 202
Chicago, Illinois 60642

About Robert Perlmuter, MD
Dr. Perlmuter founded Primary Care Medical Associates in 1988. He is Board Certified in Internal Medicine.

He received his BS from the University of Michigan and graduated from Case Western Reserve University Medical School in Cleveland, Ohio. He completed his Primary Care Medical residency at Northwestern University Feinberg School of Medicine.

Dr. Perlmuter is Section Chief of Internal Medicine at Presence St. Joseph Hospital, and teaches medical students and residents from Northwestern University. He has a strong interest in disease prevention and healthy lifestyles. He believes in using dietary approaches to prevent and treat illness prior to prescribing medication. He believes that the key to optimal health lies in the concept of having balance in one's life.

He is married to Karen and they have two grown daughters. In his free time Dr. Perlmuter enjoys tennis, paddle tennis and golf, working out, theatre and travel. He is blessed with a high energy level.
Primary Care Medical Associates
1460 N Halsted Street
Suite 202
Chicago, Illinois 60642
Get Directions