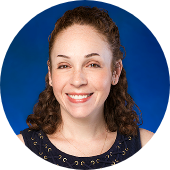 Rebecca Podolsky, MD
Maiden Lane Medical
About Rebecca Podolsky, MD
Dr. Podolsky is a board certified general gynecologist with a passion for women's health and a wide range of clinical interests. She can be found at our Financial District/Downtown and our Midtown locations.

Some of her interests are: well-woman care, the management of abnormal pap smears, medical and surgical management of abnormal bleeding, adolescent gynecology, gynecologic surgery, preconception care, family planning and contraception.

She has traveled to El Salvador and Guatemala with Basic Health International and Saving Mothers, organizations working to improve women's health in the developing world.

A native New Yorker, she is a graduate of Harvard College and of the New York University School of Medicine. She completed her residency training in Obstetrics and Gynecology at NYU Langone Medical Center, where she received the Society for Maternal-Fetal Medicine's Resident Award for Excellence in Obstetrics and the American Association of Gynecologic Laparoscopists' Special Resident in Minimally Invasive Gynecology Award.

She then worked for the NYU Faculty Group Practice as an obstetrician/gynecologist before joining Maiden Lane Medical.

She enjoys bike riding, travel and spending time with her family.
Maiden Lane Medical Midtown
18 East 41st Street
First Floor
New York, New York 10017
Get Directions