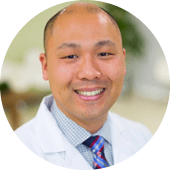 Phillip Lim, DO
NuVation Pain Group
5832 Beach Boulevard, Suite 210
Buena Park, California 90621

Phillip Lim, DO, MPH, has been on the cutting-edge of interventional pain medicine from the start of his career, often being one of the first to pioneer new treatments. At NuVation Pain Group with two office locations in Southern California in Buena Park and Downtown Los Angeles, he focuses on individualized care and offering multimodal treatments customized for each patient. His goal is to increase function, decrease pain, and provide effective alternatives to opioids.

Dr. Lim treats all types of pain conditions, but has a special interest in regenerative medicine such as regenerative tissue therapy and platelet-rich plasma (PRP) therapies, and advanced interventional procedures, including spinal cord stimulation, intrathecal drug delivery, and vertebral augmentation for compression fractures.

Dr. Lim was fortunate to train at the premier interventional pain fellowship at Harvard Medical School's Beth Israel Deaconess Medical Center. Prior to this fellowship training, Dr. Lim received his medical degree from Western University of Health Sciences in Pomona and a Master of Public Health in epidemiology from Loma Linda University.

After completing a traditional internship at Downey Regional Medical Center in Downey, California, Dr. Lim finished an anesthesiology residency at Henry Ford Hospital in Michigan. During his residency, he had the opportunity to perform multiple interventional pain procedures as a rotating resident in the anesthesia pain department.

For six years, Dr. Lim had the honor of treating American service men and women at Tripler Army Medical Center in Honolulu, where he was chief medical director. While there, he helped build the premier Interdisciplinary Pain Management Center for the Army, which is the basis for all the military branch's pain programs.

Dr. Lim is double board-certified in pain medicine and anesthesiology and maintains active membership in several professional organizations, including the American Society of Interventional Pain Physicians. Dr. Lim actively works with patients from both greater Los Angeles County and Orange County and surrounding areas.
5832 Beach Boulevard, Suite 210
Buena Park, California 90621
Get Directions