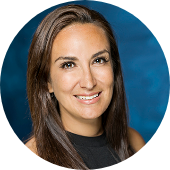 Paula Brignoni-Blume, MD
Maiden Lane Medical
About Paula Brignoni-Blume, MD
Dr. Paula Brignoni-Blume, is a board certified gynecologist who provides health care services for women at the SoHo Gynecology division of Maiden Lane Medical in New York City's SoHo district. She completed her undergraduate degree at Union College in Schenectady, New York, then went on to earn her Master of Public Health and her medical degree from St. George's University. Dr. Brignoni-Blume completed her OB/GYN residency at North Shore University Hospital in Manhasset, Long Island. As chief resident she was the recipient of the AAGL award for her laparoscopy skills.

Dr. Brignoni-Blume is board certified in obstetrics and gynecology and is a Fellow of the American Congress of Obstetricians and Gynecologists. She is on staff at The Mount Sinai Hospital in New York City.

In her daily care of patients, Dr. Brignoni-Blume's focus is on gynecology with special interest in vaginal disorders, birth control, family planning, abnormal pap smears, and management of sexually-transmitted diseases.

Educating her patients about their healthcare needs is important to Dr. Brignoni-Blume. She is dedicated to making sure patients receive the most comprehensive care, and that they understand their symptoms, diagnosis, and the proper steps to take towards optimal health.
Maiden Lane Medical Upper East Side
110 East 60th Street
Suite 903
New York, New York 10022
Get Directions