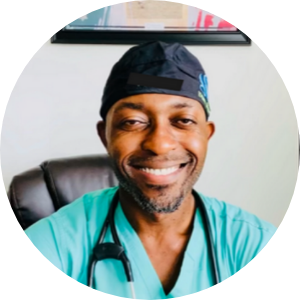 Onyeka Nwokocha, MD
Sky on Sky Bariatrics & Surgery
About Onyeka Nwokocha, MD
Dr. Onyeka Nwokocha is a board-certified, fellowship trained Bariatric & General surgeon in Miami, Miami beach, and Fort Lauderdale, FL. He received his bariatric fellowship training at Cleveland Clinic in Florida. He has been in practice for over 10 years and has performed thousands of successful bariatric weight loss procedures. He does this procedures through minimally invasive techniques using laparoscopic or robotic approaches (tiny cuts).

Some examples of his services are Gastric Sleeve, Gastric Bypass, and Gastric Band.

He also specializes in Non-invasive, non-surgical (meaning NO CUTTING), 15 minutes procedure. This procedure is the Gastric Balloon for weight loss. The balloon can be placed during a lunch break and you can go back to work the same day. In our experience, average weight loss for the balloon ranges from 30-70 pounds.

Additionally he offers Botox & Fillers to restore youthfulness, treat various scars, and/or treat other medical conditions. Examples: small imperfections, Wrinkles, Folds, Jaw line slimming, TMJ, chronic Migraines etc.

Mini tummy tuck is also available after weight loss.

He is experienced in endoscopy and colon & rectal surgery. He offers upper endoscopies to diagnose and treat heartburn (reflux), ulcers, hiatal hernia, and many more. He is an expert in correcting different kind of hernias, especially HIATAL hernias that can be the cause of your heartburn (acid reflux).

He has affiliations with several hospitals and doctors, and especially with plastic surgeons in Miami and Fort Lauderdale.
Sky on Sky Bariatrics & Surgery
175 Sw 7Th St.
Suite 1511
Miami, Florida 33130
Get Directions