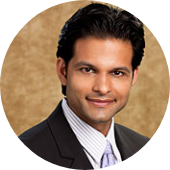 Neil Ghodadra, MD
Neil Ghodadra, MD Inc.
10780 Santa Monica Blvd
Suite 210
Los Angeles, California 90025

Dr. Neil Ghodadra's orthopedic practice focuses on minimally invasive, arthroscopic surgery of the knee, shoulder, elbow, and hip. His unique background includes extensive training and expertise in cartilage restoration of the knee and joint preserving osteotomies, as well as treatment of complex shoulder conditions, ranging from shoulder instability and rotator cuff repair surgery to shoulder replacement surgery. Dr. Ghodadra is fellowship trained in Shoulder and Sports Medicine Surgery and has a particular interest in taking care of athletes.

Dr. Ghodadra grew up in Georgia and graduated Magna Cum Laude from Duke University with a Bachelor of Science in Biology. While at Duke, he won several prestigious scholarships recognizing him for his academic achievements. He attended Duke Medical School where he graduated as one of the top students in his class, winning the Alpha Omega Alpha (AOA) honor for best thesis presentation.

Following medical school, Dr. Ghodadra completed his residency at Rush Medical Center in Chicago, Illinois under the guidance of some of the country's leading sports medicine surgeons. After residency, Dr. Ghodadra completed the world renowned Sports Medicine Fellowship at Rush Medical Center. While there, his subspecialty training placed emphasis on cartilage restoration and joint preserving surgical techniques of the knee and shoulder, which allow active patients to continue with their athletic careers and recreational activities.

While Dr. Ghodadra was a fellow at Rush University Medical Center, he assisted the team physicians for the Chicago Bulls (NBA) and Chicago White Sox (MLB). He also served other sports teams, including multiple semi-professional, university and high school teams in football, hockey and gymnastics.

Dr. Ghodadra is well known for his surgical skill and his devotion to teaching and innovation in orthopedic surgery. He has authored over 65 textbook chapters and journal articles. Topics include: cartilage restoration, shoulder instability repair, rotator cuff repair, ACL repair and shoulder reconstruction. His work has been presented at more than 70 conferences throughout the world, including the American Academy of Orthopedic Surgeons where he won the award for best Scientific Exhibit for his work in shoulder instability in athletes. Dr. Ghodadra was instrumental in developing a landmark technique for patients with recurrent shoulder instability. He was recognized for this seminal work with multiple peer reviewed publications. Furthermore, Dr. Ghodadra has received research grants to continue with his research. He has also been invited to serve as a reviewer for the top orthopedic journals in sports medicine.

In addition to his devotion to advancing the field of sports medicine, Dr. Ghodadra is known for his humility and patient friendly disposition. He treats every patient as he would a member of his own family. Dr. Ghodadra believes that excellent outcomes are achieved through effective patient communication and patient understanding of their condition and treatment options. Dr. Ghodadra believes in extensive nonsurgical treatment options as well as advanced surgical techniques to help patients return to their previous level of activity and function.

In his free time, Dr. Ghodadra likes to spend time with his family and friends in Southern California. He enjoys golf, basketball, running, biking, and fitness.
10780 Santa Monica Blvd
Suite 210
Los Angeles, California 90025
Get Directions