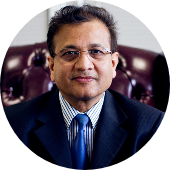 Nayan Shah, MD
Nayan C. Shah, M.D.
681 Scranton Carbondale Highway
Eynon, Pennsylvania 18403

A graduate of Medical College of Baroda, Dr. Shah did his internship at St. Francis Medical Center, Trenton, N.J. followed by residency at St. Mary's Hospital, Rochester, N.Y. He completed his fellowship in Gastroenterology at Albany Medical College, Albany, N.Y. Dr. Shah has been practicing since 1986 with individual experience of over 37,000 endoscopic procedures, and is board certified in both Internal Medicine and Gastroenterology.
Nayan C. Shah, M.D.
681 Scranton Carbondale Highway
Eynon, Pennsylvania 18403
Get Directions