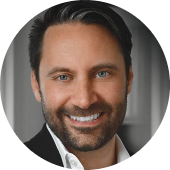 Michael Gulizio, DMD
Core Smiles
1182 Broadway
4Th Floor
New York, New York 10001

About Michael Gulizio, DMD
Michael Gulizio, DMD, MS, is a highly skilled dentist on the team at Core Smiles in the heart of NoMad Manhattan, New York City. He is internationally recognized for his skills in aesthetic dentistry, implant dentistry, smile design, and treatment of complex dental problems, corrective implant dentistry, temporomandibular joint (TMJ) issues, and oral-facial and myofascial pain disorders.

Dr. Gulizio is a Long Island native who graduated magna cum laude with a Bachelor of Science in microbiology and cell science from the University of Florida in Gainesville, Florida, in 1996. He earned his dental degree from the University of Pennsylvania School of Dental Medicine in Philadelphia, where he graduated summa cum laude in 2000.

While studying for his dental degree, Dr. Gulizio also completed a master's in education with a focus on professional leadership and curriculum design at the University of Pennsylvania Graduate School of Education, also in Philadelphia.

Dr. Gulizio went on to the University of Connecticut, where he earned a second master's degree in dental sciences with a focus on implant-retained overdentures and was honored with the John J. Sharry award for his thesis project, which was later published in the Journal of Prosthodontics. While at the University of Connecticut, he also completed a rigorous prosthodontic residency program in aesthetic dentistry, implant dentistry, reconstructive dentistry and removable prosthodontics, including dentures and partial dentures.

In his practice at Core Smiles, Dr. Gulizio is known for his attention to detail and his reputation for uncompromising clinical excellence. He currently holds a position as the program director for New York University's post-doctoral specialty program in advanced aesthetics and occlusion, and he regularly speaks on the subject around the country.

Outside of work, Dr. Gulizio is an avid dog-lover who leads a healthy lifestyle and enjoys the outdoors.
Core Smiles
1182 Broadway
4Th Floor
New York, New York 10001
Get Directions