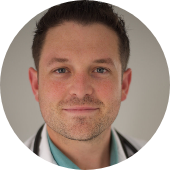 Matthew Abinante, DO
Elevated Health
18800 Delaware Street
Suite 800
Huntington Beach, California 92648

About Matthew Abinante, DO
Dr. Matt had a few health issues when he was younger and got to work with several doctors that became role models to him. He loves working with people and is fascinated by the human body. Family medicine allows him to follow in the footsteps of his role models in providing excellent care while working with people of all ages in their quest for good health.

Dr. Matt received his DO and MPH from Touro University in Vallejo, CA and completed his residency training at PIH Health Hospital in Downey, CA. He is a board-certified Family Physician.

Dr. Matt lives in Huntington Beach with his wife, Chelsea, and their four daughters. In his spare time, he enjoys spending time with his family whether it's at the beach, his parents' house in Sacramento or with his wife's family in San Diego. He also loves spending time on his grandparent's ranch in Idaho.

He speaks fluent English and Tagalog.
Elevated Health
18800 Delaware Street
Suite 800
Huntington Beach, California 92648
Get Directions