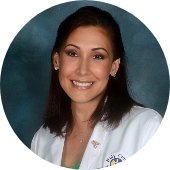 Lillian DeCosimo, MD
Lillian M. DeCosimo, M.D.
595 S. Federal Highway
Boca Raton, Florida 33432

About Lillian DeCosimo, MD
Dr. Lillian M. DeCosimo is an experienced Board Certified Gynecologist and a fellow of the American College of Obstetrics & Gynecology who has been in women's healthcare for 25 years. Over the course of her career she developed a special interest and expertise in maintenance of women's wellness, female sexual medicine, management of peri-menopause, menopause and feminine aesthetic services. She realizes that women work hard throughout their lives and take care of loved ones but also have goals and desires in life. These goals include being the best versions of themselves in health, beauty and overall well being. She aims to help women achieve these goals by also offering bio-identical hormone optimization and replacement therapy. She strongly believes optimal hormonal balance is essential for people to experience a greater sense of well being and happiness which naturally leads to success and fulfillment in all areas of life. Helping women renew their passion for life as they age is one of Dr. DeCosimo's most fervent goals. Her practice also offers women at all stages of their lives comprehensive well woman exams and Pap testing, menopause counseling and treatment, evaluation and treatment of female sexual desire issues and cosmetic procedures of the genital area.
Lillian M. DeCosimo, M.D.
595 S. Federal Highway
Boca Raton, Florida 33432
Get Directions