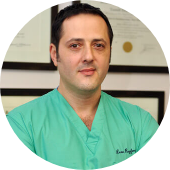 Leon Reyfman, MD
Pain Physicians NY
2279 Coney Island Ave
Brooklyn, New York 11223

3227 E Tremont Ave
Bronx, New York 10461

Leon Reyfman, MD, FIPP, RPh is a graduate of Ross University Medical School where he earned the prestigious Award of Academic Excellence. He completed his internship in Internal Medicine at Maimonides Medical Center. Following his internship, Dr. Reyfman completed a residency in Anesthesiology with focus on Pain Medicine at SUNY Downstate Medical Center in Brooklyn, NY.

With pain management being his primary interest, Dr. Reyfman pursued and was granted a fellowship at the world-renowned Columbia University College of Physicians and Surgeons/St. Lukes Roosevelt Hospital. While at Columbia/St. Lukes Roosevelt, Dr. Reyfman honed his skills and gained extensive experience in patient interaction, continuity of care, physical rehabilitation, and the value of teamwork.

Dr. Reyfman is board certified through the American Board of Anesthesiology in both Anesthesiology and Pain Management. Dr. Reyfman has extensive clinical experience and training in invasive and non-invasive pain management. Dr.Reyfman has over 10 years' experience in addiction medicine. He is certified to treat opiate dependency with Buprenorphine.

He currently serves as the Director of Interventional Pain Medicine at SUNY Downstate Medical Center, Mount Sinai Brooklyn Hospital and is Assistant Clinical Professor of Anesthesiology at SUNY Downstate Medical School.

Dr. Reyfman is a member of American Society of Interventional Pain Physicians as well as the International Spine Intervention Society. Dr. Reyfman is actively involved in Pain Management research and has lectured on substance abuse treatment and pain management in chemically dependent patients.
Brooklyn
2279 Coney Island Ave
Brooklyn, New York 11223
Get Directions
Pain Physicians NY
3227 E Tremont Ave
Bronx, New York 10461
Get Directions