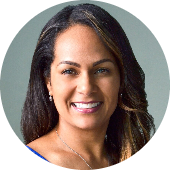 Latanya Benjamin, MD
Young Skin, PA
5200 S University Drive
Davie, Florida 33328

About Latanya Benjamin, MD
Latanya T. Benjamin, MD, FAAD, FAAP is a dual board-certified Pediatric Dermatologist and Dermatologic Surgeon. She is a former Professor at Stanford University. Dr. Benjamin is a respected leader in her field and is nationally recognized as an expert in atopic dermatitis (eczema), acne and sun safety. Her specialty also includes pediatric laser and surgery, vitiligo, alopecia areata (hair loss), psoriasis, infantile hemangioma and other pediatric birthmarks.

Dr. Benjamin sits on multiple Board of Directors including an honorary position as member of the Executive Committee for the Society of Pediatric Dermatology (SPD). She is a published author of the medical textbooks, Therapy in Pediatric Dermatology: Management of Pediatric Skin Disease and the recently published Pediatric Dermatologic Surgery.

Dr. Benjamin is known best for providing healing and encouraging self worth in young children with visible skin, hair and nail disorders. She is a mother and a passionate advocate for women and children. She was awarded the inaugural Women's Dermatologic Society Volunteer of the Year award for exemplary service to her community. She is a sought after speaker and lectures all over the country teaching at top medical conferences.
Young Skin, PA
5200 S University Drive
Davie, Florida 33328
Get Directions