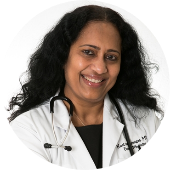 Kastoori Iyengar, MD
Saint Vincent Medical Group
100 Leominster Rd
Suite 1
Sterling, Massachusetts 01564

About Kastoori Iyengar, MD
Dr. Kastoori Iyengar is a diligent and friendly family physician and primary care doctor caring for the Sterling, MA community. Dr. Iyengar attended Mahatma Gandhi Memorial Medical College in Indore. She completed both her internship and residency in family medicine at UMass Memorial Medical Center.

Dr. Iyengar is board certified by the American Board of Family Medicine and is affiliated with Saint Vincent Hospital in Worcester, MA. She is a family medicine physician at the Sterling location of Saint Vincent Medical Group.

Dr. Iyengar uses her years of expertise, including a special interest in women's health and evidence-based approach to empower her patients to make healthy life choices. She believes that "by educating my patients about disease prevention and promoting and teaching self-management tools, I ensure that my patients have the know-how and resources to make the necessary health changes to improve quality of life."
Saint Vincent Medical Group
100 Leominster Rd
Suite 1
Sterling, Massachusetts 01564
Get Directions