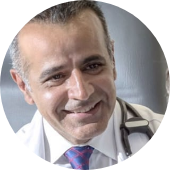 Kambiz Farbakhsh, MD
LT Proactive Care Clinic
5525 Cedar Lake Road
St Louis Park, Minnesota 55416

About Kambiz Farbakhsh, MD
As the LT Proactive Care Clinic's Founder and Medical Director, Dr. Farbakhsh strongly believes that "prevention is the best medicine." He partnered with Life Time to combine the expertise of a Medical Doctor, Registered Dietician and Personal Trainer in order to promote a healthier way of life through exercise and nutrition.

Dr. Farbakhsh received his Doctor of Medicine degree from Alcala De Henares University in Madrid, Spain in 1991. He completed his Internal Medicine residency at a Boston University-affiliated hospital and a Nephrology fellowship at Brown University and is dual-board certified. He received his executive MBA from the University of Minnesota's Carlson School of Management in 2012.

He has more than 20 years of clinical practice taking care of patients with chronic illnesses such as diabetes, hypertension and kidney disease. He previously held an academic position as Assistant Professor of Medicine at University of Minnesota and has served as a Medical Director for DaVita Clinical Research.