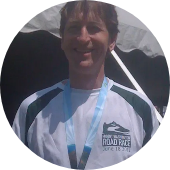 John Straus, MD
Progressive Health
I have been involved in health and healing since 1973, beginning with natural foods cooking, then postgraduate naturopathic medical school and eight years of clinical practice in Naturopathic Medicine before attending conventional medical school with board certification in Internal Medicine and Addiction Medicine.

As a specialist in natural foods preparation, I trained at the Omega Institute beginning in 1978 when it first started. At the Omega Institute I was able to study with herbalist John Christopher and Chiropractor Bernard Jenson as well as many other respected natural healers there and in numerous other workshops and intensives. In 1979 I became the assistant chef and then in 1981 was head chef, serving up to 500 people. In addition to managing the Omega Institute kitchen, I have worked in many traditional and natural foods restaurants and catering between 1973 and 1982, either part or full time, as well as teaching whole food cooking. In my clinical practice, I use many types of therapeutic diets, and have eaten a mostly vegetarian diet since my early 20's.
As a graduate of Bastyr University, with a Doctor of Naturopathic Medicine, N.D. in 1986 in Seattle, I was trained in the science and art of natural healing therapeutics. I maintained a private Naturopathic Medical practice from 1986-92 in Corvalis Oregon, including natural childbirth, and from 1992 to 1995 part time in Maine, treating all ages and many illnesses with nutritional supplements, diet therapy, manual and physical therapies, fasting and detoxification, homeopathic remedies, bio-identical hormones, herbs and lifestyle changes. I have been using intravenous infusion therapies with vitamins and minerals since 1986 with dramatic benefits at times, when other natural treatments have failed.

These treatments were highly effective, but some diseases require more intensive natural or pharmaceutical treatments that Naturopathic doctors are licensed or trained to provide. To meet my patient's needs, and to continue my growth as a healer and physician, I returned to medical school, graduating in 1997. I then completed a residency in Internal Medicine at Roger Williams Medical Center in Rhode Island, a Boston University affiliate. I am Board Certified in Internal Medicine. I served as Associate Medical Director and Unit Chief at the Department of Addiction Medicine at Roger Williams Hospital between 2000 and 2004, then Discovery House Methadone Clinic from 2004-10 and then Arbour Fuller Hospital addiction treatment unit from 2010 to 2012. Since 2000 I have incorporated naturopathic care into my part time medical practice and since 2012 have practiced full time at Progressive Health. I also resumed Methadone treatment as the Medical Director of Center for Treatment and Recovery in RI. Since October 2017 I have worked for Correct Care Solutions providing prison health care in MA at the MASAC addiction treatment facility in Plymouth and the Old Colony Correction Center in Bridgewater.

In my personal life and work I have been active in sports my entire life. In high school skiing 4 years in cross country, ski jumping, slalom and giant slalom earning ski-meister for best all around in the New Hampshire state meet. At the University of Colorado I skied cross country and ski jumped for two years. After graduation I returned to coach at my old high school for two years, then for the Steamboat Springs Colorado Winter Sports Club coaching the junior cross country and jumping programs and maintaining the ski jumping complex for two years. Throughout this time I have been an active runner completing the Boston Marathon 4 times, most recently in 2002 and 2003 and then the Philadelphia marathon in 2007 and the Marine Corp Marathon in Washington DC in 2009. I have completed the Megatransect trail race in 2012, 2013 and 2014 in Loch Haven PA, a 26 to 28 mile trail race with over 5,000 feet of elevation gain. In the spring of 2010, 2013 and 2015 I completed the Mountain Goat Series of 6 mountain races in MA, VT and NH to gain entry in the Mount Washington race up the auto road in June 2011 and June 2014. I completed the Philadelphia half marathon in November 2011. In 2012 I completed the Hyner View Challenge in central PA, a 16 mile trail race with 4,226 feet of elevation gain. I have completed the 10 mile Broad Street run 4 times, last in 2016 and the 5 mile Hangover New Years run in Bristol 4 times, last in 2017. In 2018 I completed four 1/2 marathons in the RI Road Masters series and then the Marine Corp Marathon October 28 in Washington DC. I rollerblade and continue to ski recreationally.
Progressive Health
189 Governor Street
Providence, Rhode Island 02906
Get Directions