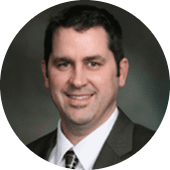 John Miller, DPM
Associated Podiatrists
26750 Providence Parkway
Ste 130
Novi, Michigan 48374

John D. Miller, DPM is a Michigan native who stayed in Ann Arbor to earn his undergraduate degree from the University of Michigan. At Associated Podiatrists, P.C. in Novi, Michigan, Dr. Miller devotes time to each and every patient to truly understand their condition, listen to their concerns, and treat them in a warm and professional manner.

After earning his Doctor of Podiatric Medicine degree from the Ohio College of Podiatric Medicine in Cleveland, Dr. Miller went on to complete his surgical training in foot and ankle reconstruction at Highlands/Presbyterian-St. Luke's Medical Center in Denver. He joined Associated Podiatrists, P.C. in 2002.

Dr. Miller treats men, women, and children of all ages, in all aspects of medical and surgical foot and ankle care. His specialties include reconstructive foot and ankle surgery, pediatric foot and ankle care, laser treatment of skin lesions on the feet, orthotics for congenital or traumatic deformities, diabetic wound care, and foot and ankle sports injuries.

Board certified in foot surgery and reconstructive rearfoot and ankle surgery by the American Board of Foot and Ankle Surgery, Dr. Miller is also a member of the American Podiatric Medical Association and the Michigan Podiatric Medical Association. He is a member of the medical executive committee for the Bone and Joint Surgery Center of Novi. His hospital affiliations include Ascension Providence Novi and Southfield, and he is a Fellow with the American Society of Podiatric Surgeons.
Associated Podiatrists
26750 Providence Parkway
Ste 130
Novi, Michigan 48374
Get Directions