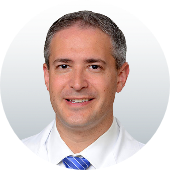 Jeffrey Feiner, MD
Feiner Plastic Surgery
2020 Oakley Seaver Drive
Suite 3
Clermont, Florida 34711

Dr. Jeffrey Feiner is a board-certified specialist in Plastic and Reconstructive Surgery with unique expertise in breast reconstruction. A native New Yorker, he and his family have come to call the central Florida area home for the last 7 years.

Dr. Feiner has a long tenure of academic excellence. His Ivy League education began at the University of Pennsylvania, where he graduated Magna Cum Laude with a Bachelor of Arts Degree. He earned his doctoral degree from the University at Buffalo Jacobs School of Medicine and Biomedical Sciences, graduating #1 in his class. As a junior, he was honored with early induction into the Alpha Omega Alpha Medical Honor Society.

​​​​​​​Dr. Feiner was one of two fellows accepted into The Johns Hopkins Hospital/University of Maryland Integrated Plastic Surgery Residency program in 2005. The Johns Hopkins Hospital has been ranked #1 by US News and World Report for 21 years in a row. There he received rigorous training in all disciplines within the specialty of plastic surgery. His performance and love of teaching culminated in him receiving the Johns Hopkins/University of Maryland Plastic Surgery Residency Teaching Award, an honor bestowed by his peers and medical students for excellence in teaching. He has been published in numerous scientific journals and textbooks.

Dr. Feiner has been practicing in Orlando since 2012, where he developed a specialized reconstructive practice at the MD Anderson Cancer Center (currently UF Health Cancer Center). He is an expert in microsurgery, having performed more than 900 microsurgical procedures and was involved in the first vascularized lymph node transfer operation in Florida.

Dr. Feiner serves as Medical Director for the Compassionate Hands and Hearts Breast Cancer Outreach, founded by breast cancer survivor Vanessa Echols. He enjoys serving the community and having a positive impact on the lives of women and their families as they fight to beat breast cancer. His practice strives to be family-oriented, focusing on personalized and compassionate care.
Feiner Plastic Surgery
2020 Oakley Seaver Drive
Suite 3
Clermont, Florida 34711
Get Directions