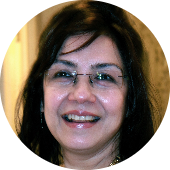 Humaira Mahmud, MD
Kidney & Hypertension Clinic
246 Maple St
Suite 2
Marlborough, Massachusetts 01752

Dr. Mahmud has more than 25 years of experience as a physician. She completed medical school in 1990. She is board certified in Internal Medicine, Nephrology and Hypertension. She is a fellow of the American Society of Nephrology and a member of the Massachusetts Medical Society. She completed her residency training in Internal Medicine at St. Vincent's Hospital in 1997, and her fellowship training in Nephrology from Boston University Medical Center in 1999. She joined Boston University School of Medicine, Renal Section as a junior faculty in 2000.

She was a recipient of the NKF grant award by National Kidney Foundation and National Research Service Award by NIH in 2000 for doing research in podocyte biology.

She has a special interest in diabetic and other proteinuric kidney diseases, as well as management of obesity-related kidney disease and fluid overload.

She is affiliated with UMass Memorial Marlborough Hospital, MetroWest Medical Center, Milford Regional Medical Center and 5 dialysis facilities in the area.