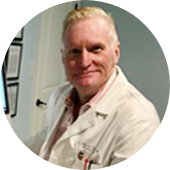 Howell Tiller, MD
J. Howell Tiller, MD LLC
100 South Baylen Street
Suite E
Pensacola, Maryland 32502

Dr. J. Howell Tiller is internationally recognized as a leader in cosmetic surgery for men and women and regularly attends medical conferences as an invited guest to introduce his unique surgical procedures. He pioneered muscle augmentation, specializing in biceps/triceps, pectoral, abdominal, buttock and calf implants.

Dr. Tiller began his career in 1985 as a cosmetic surgeon at the National Naval Medical Center outside of Washington, DC, performing cosmetic and reconstructive procedures on active duty and retired members of our nation's Armed Forces. He also cared for then-President Ronald Reagan, serving as his personal surgeon.

Dr. Tiller retired from active duty in 1988 as a Commander in the U.S. Navy and became the Director of the Watergate Cosmetic Surgery.

In 1995, Dr. Tiller opened a cosmetic surgery practice in Miami, Florida and opened South Beach Cosmetic Surgery Center, where he has performed thousands of cosmetic procedures, including body augmentations and face and body lifts.

In 2016, Dr. Tiller returned to his home town in Florida and opened Pensacola Cosmetic Surgery in Pensacola. Dr. Tiller is enthusiastic about providing experienced and excellent cosmetic surgery services to the area and community that he calls home.
J. Howell Tiller, MD LLC
100 South Baylen Street
Suite E
Pensacola, Maryland 32502
Get Directions