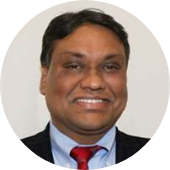 Harinath Sheela, MD
Digestive and Liver Center of Florida
100 N Dean Road
Suite 101
Orlando, Florida 32825

About Harinath Sheela, MD
Dr. Sheela moved to Orlando, Florida after finishing his fellowship in Gastroenterology at Yale University School of Medicine, one of the finest programs in the country. During his training he spent a significant amount of time in basic and clinical research and has published articles in Gastroenterology literature.

His interests include Inflammatory Bowel Diseases (IBD), Irritable Bowel Syndrome (IBS), Hepatitis B, Hepatitis C, Metabolic and other liver disorders.

Dr. Sheela is board certified in both Internal Medicine and Gastroenterology. He is a member of the American Gastroenterological Association (AGA), the American Society for Gastrointestinal Endoscopy (ASGE), the American Association for the Study of Liver Diseases (AASLD), and Crohn's Colitis Foundation (CCF).

Dr. Harinath Sheela has served as the Chairman at Florida Hospital's Department of Gastroenterology. He is also an active member of the Orange County Medical Society and sits on the Board of Directors.

In addition to being an Assistant Professor at the University of Central Florida School of Medicine, he is also a teaching attending physician at both the Florida Hospital Internal Medicine Residency and Family Practice Residence (MD and DO) programs.

Contributing writer for Orlando Medical News, Insight Magazine, Spanish Magazine Tu Revista Mujer and the Healthy Advice session from Orlando Sentinel.
East Orlando
100 N Dean Road
Suite 101
Orlando, Florida 32825
Get Directions