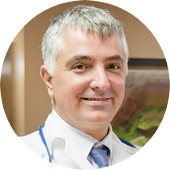 Gus Armenakis, MD
Gus Armenakis MD, P.A.
7421 University Drive
Suite 306
Tamarac, Florida 33321

Dr. Gus Armenakis is an American Board Certified Internal Medicine Physician. He received his doctorate in medicine from the Universidad Iberoamericana School of Medicine. Dr. Armenakis completed his internal medicine residency at Mount Sinai Hospital and his internship at Ochsner Medical Center.

Dr. Gus Armenakis is conveniently located in Tamarac, FL. His mission is to provide the best quality of healthcare available. His practice prides themselves on excellent customer service and personalized attention. The staff speaks English, Spanish, Portuguese, Creole and Greek.
Gus Armenakis MD, P.A.
7421 University Drive
Suite 306
Tamarac, Florida 33321
Get Directions