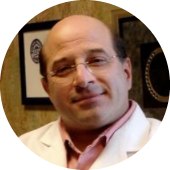 George Vito, DPM
Ankle and Foot Centers of Western New York
8745 Lake Street Rd
Le Roy, New York 14482

Dr. George Vito has been in private practice for nearly 30 years. He has extensive experience in reconstructive surgery of the foot, ankle and leg. He graduated from the Iowa College of Podiatric Medicine in 1988 and completed a three-year surgical residency at Emory Northlake Regional Medical Center in Tucker, Georgia under the guidance of Dr. E. Dalton McGlamry.

He has lectured and published numerous articles in the United States and abroad. He has had extensive training in the use of external frames and has been awarded an Honorary Professorship of Orthopedics from the Ilizarov Center in Kurgan, Russia, which is the largest orthopedic hospital in the world.

He currently practices in Le Roy, NY with a specialization in foot and ankle reconstructions, including Charcot reconstruction of the diabetic foot and ankle using the circular ring fixation methodology.

Dr. Vito has ancillary offices in Buffalo, Niagara Falls, Batavia and Rochester, NY with multiple referring physicians in the area that help recognize and support the post-operative management once a patient has the procedure performed. He has pioneered Charcot reconstruction with ring fixation and has been performing these types of procedures since 1994. With well over 2000 Charcot foot reconstructions performed, he is the clear podiatrist to trust.

In addition to his podiatric medical degree, he has obtained an MBA, a second master's in criminal justice, and two graduate certificates (one in white collar crime investigations and the other in negotiation and conflict resolution). He has also obtained a law degree from Purdue University.
Ankle and Foot Centers of Western New York
8745 Lake Street Rd
Le Roy, New York 14482
Get Directions