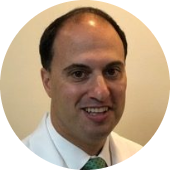 George Orfaly, DMD
Fisher & Orfaly Dental
18 Hawthorne Blvd
Salem, Massachusetts 01970

Dr. Orfaly is a 1999 graduate of Tufts University School of Dental Medicine. While at Tufts, Dr. Orfaly received the Tufts Merit Scholarship for academic excellence. Upon receiving his Doctor of Medicine in Dentistry degree, he successfully completed a general practice residency at the Veteran's Affairs Hospital in Washington, D.C. Since practicing in Salem in 2005, Dr. Orfaly has been an active member of the American Dental Society, Massachusetts Dental Society, and the North Shore District Dental Society. He has served as the membership liaison for the North Shore as well as the coordinator of a mobile dental van that provided dental treatment to underserved areas on the North Shore. In 2009, he was selected as a "Top 10 Under 10" dentist in Massachusetts. This is an honor bestowed upon him by his peers as an active and successful dentist that had been practicing dentistry for 10 or fewer years.

Dr. Orfaly received his Bachelor's of Arts degree from Clark University where he was the recipient of the Robert Goddard Merit Scholarship. He graduated with Latin honors in 1995. While at Clark, he met his wife Sharon.

The Orfalys live in Marblehead with their three children. If he is not at the office, you will likely find him at a local baseball field or basketball court coaching his children's teams. He is on the Board of Directors of Marblehead Youth Baseball in which he has served as President. The Orfalys are very active in several philanthropic organizations in the community.
Fisher & Orfaly Dental
18 Hawthorne Blvd
Salem, Massachusetts 01970
Get Directions