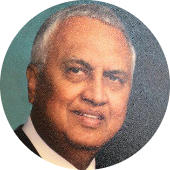 George Jayatilaka, MD
George M. Jayatilaka, MD, Inc
1045 Atlantic Avenue
Suite 818
Long Beach, California 90813

About George Jayatilaka, MD
Dr. George M. Jayatilaka, otherwise known as Dr. Jay to his patients, has offered medical care to children, adults, and seniors in the Long Beach, California community since opening his practice over 40 years ago, in 1976.

Dr. Jay graduated from St. Benedict's College in Colombo, Ceylon, before receiving his medical degree from Faculty of Medicine, University of Ceylon, Colombo, Sri Lanka. He completed internships in pediatrics and OB/GYN at Colombo North Hospital.

Dr. Jay went on to do nine residencies at various hospitals in Ceylon and New York before becoming a Fellow at UCLA Health Science Center from 1975-1976. Once he completed his fellowship, he went into private practice and opened two offices in Long Beach, California.

Dr. Jay has acquired a multitude of affiliations while in practice and has several published articles. Besides his California medical license, Dr. Jay holds licenses in New York, Ceylon, and England.
George M. Jayatilaka, MD, Inc
1045 Atlantic Avenue
Suite 818
Long Beach, California 90813
Get Directions