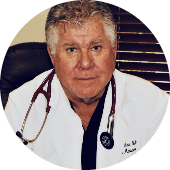 Gary Mallow, MD
Gary W Mallow, MD PA
9633 W Broward Blvd
Suite 3
Plantation, Florida 33324

Very personable, easy going, well experienced.
Dr. Gary Mallow, an Internist and part of the Memorial Healthcare System, is Medical Director of The Mallow Center.

Dr. Mallow's training is in Internal Medicine and includes studies at Duke University and the University of Buffalo, as well as a personal apprenticeship with Dr. Robert Atkins. This specialized background is the driving force behind The Mallow Center's overwhelmingly successful customized Medical Weight Loss programs, which uniquely provide both practical and holistic benefits to patients of all age ranges and all body types.

Dr. Mallow's program is a combination of education, exercise and medication. The goal of the program is to show patients that successful weight loss does not require dramatic lifestyle changes, but can be successfully accomplished with moderate lifestyle modification.
Gary W Mallow, MD PA
9633 W Broward Blvd
Suite 3
Plantation, Florida 33324
Get Directions