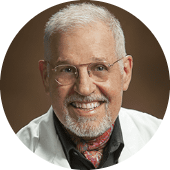 Frederick Barker, MD
Surgical Care of the Virginias
101 Westwood Commons
Bluefield, Virginia 24605

About Frederick Barker, MD
Frederick W. Barker, MD, FACS, is a Bluefield, Virginia-based, board-certified general surgeon and breast care specialist with nearly 40 years of surgical experience. His offices, Surgical Care of the Virginias and MammoCare are located in Westwood Medical Park, Bluefield, Virginia.

Receiving his bachelor of science degree in animal and veterinary science at West Virginia University in Morgantown, West Virginia, he continued graduate studies in animal nutrition and went on to earn his doctor of medicine from West Virginia University School of Medicine in 1981.

From there, Dr. Barker completed five years of general surgery residency training at the Yale affiliate Bridgeport Hospital in Connecticut. As part of his surgical training program, Dr. Barker spent six months at Memorial Sloan-Kettering Cancer Center in New York City and two months at the University of Maryland "Shock Trauma" in Baltimore, Maryland.

Dr. Barker joined the United States Air Force in 1984. Upon completion of his general surgery residency, he served on both overseas and stateside assignments. Honorably discharged in 1989, he moved to Bluefield, West Virginia,where he practiced at Bluefield Regional Medical Center, Saint Luke's Hospital, Princeton Community Hospital, and Tazewell Community Hospital—now Tazewell Carilion Hospital. Dr. Barker was recalled to active duty in support of Desert Storm and, upon discharge, returned to his private practice in Bluefield, Good Samaritan Surgical Service.

In 2004, Dr. Barker was recruited by Carilion Clinic to Bedford Memorial Hospital in Bedford, Virginia, and later moved with his family to Union, South Carolina, where he practiced for four years.

Returning home in 2011, Dr. Barker has continued to apply his considerable surgical experience to the practice of general surgery while maintaining a passionate focus as a thoughtful innovator, providing comprehensive breast care to innumerable women in the area.

Dr. Barker has held many medical staff leadership positions, published medical articles, and spoken at many medical and community meetings. However, it is the compassionate care of patients and their families that motivates him and makes his long hours and many sleepless nights feel worthwhile.

It's no wonder that Dr. Barker enjoys an outstanding reputation and has a very busy practice of general surgery and comprehensive breast care. Dr. Barker and his top-notch support team stand at the ready with a kind word, a comforting touch, a heartfelt prayer, and reliable surgical advice whenever you or a family member needs surgical care.

As a cancer survivor himself, with siblings who are also cancer survivors and a sister who is currently battling breast cancer, Dr. Barker has tremendous empathy for the challenges facing women diagnosed with breast cancer. He's always willing to take the time to help family members understand what lies ahead. Dr. Barker firmly believes his mission and calling is to cure when possible and compassionately care for all.
Surgical Care of the Virginias
101 Westwood Commons
Bluefield, Virginia 24605
Get Directions