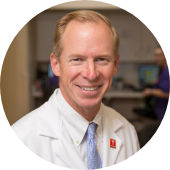 Eric Walsh, MD
Ortho Rhode Island
285 Promenade Street
Providence, Rhode Island 02908

Dr. Walsh is board-certified in orthopedic surgery and has a certificate of added qualifications in hand surgery. He is an Assistant Professor of Orthopaedics at the Warren Alpert School of Medicine at Brown University. He specializes in traumatic injuries to the hand, wrist, and elbow as well as common tendon, nerve and joint problems. He performs minimally invasive arthroscopic surgery to the wrist and elbow and microvascular surgery. He joined the Ortho Rhode Island practice in 2007.

He is very focused on the most expeditious and safest relief of his patient's pain and problem, often with non-surgical, but sometimes surgical care.

Prior to entering medical school, he served in the Unites States Marine Corps as a Naval Aviator. He is a commercial and multi-engine rated pilot, and enjoys sailing, skiing, and fly fishing. He is an active member of the Brown University Doctoring Community Mentoring Program and a covering physician for Brown University.