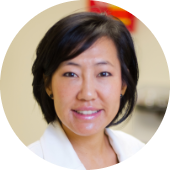 Elisa Yoo, MD
Elisa K. Yoo, MD
3801 Katella Ave
Suite 414
Los Alamitos, California 90721

Dr. Yoo is devoted to caring, compassionate, and state-of-the-art care for the treatment of Dermatology disorders.

It is Dr. Yoo's philosophy to give you the same advise and care that she would offer to her own family members.

Dr. Yoo will utilize the most advanced medical and surgical techniques for the diagnosis and treatment of Dermatologic disorders.

Renee Purcell, PA-C has been working in the dermatology field for 10 years, giving her extensive experience in the diagnosis and treatment of dermatological conditions.

Renee works in conjunction with Dr. Yoo treating patients and assisting in surgical and cosmetic procedures.

Dr. Yoo and Renee Purcell work with highly skilled and motivated LVN's and MA's. Each came to our office highly recommended and the providers could not practice without their help and knowledge.
Elisa K. Yoo, MD
3801 Katella Ave
Suite 414
Los Alamitos, California 90721
Get Directions