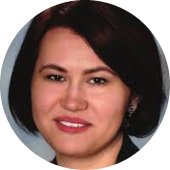 Diana Girnita, MD
Rheumatologist Oncall
Diana Girnita MD, Ph.D. diagnoses and treats adult patients for a wide array of inflammatory arthritis, osteoarthritis, autoimmune disease, and osteoporosis. Dr. Girnita is US board certified in Rheumatology and Internal Medicine. She is licensed to treat patients in CALIFORNIA, OHIO, KENTUCKY and INDIANA. Dr Girnita believes in easy access and transparency of cost for patients.

Dr Girnita's clinical teaching and research background included a postdoctoral fellowship at Harvard University, followed by an immunology fellowship at University of Pittsburgh and a rheumatology fellowship at University of Cincinnati.

She is a volunteer speaker and advocates for the National Arthritis Foundation. She was recognized with 'Top Doctors' award in Ohio.